Posted:
June 8th, 2010 |
Author:
Jason Scott
|
Filed under:
Interactive Fiction
,
production
,
Text Adventure History
|
7 Comments »
So a few people, over the past months, have asked or commented about the guy in the inner artwork spread:
Some of it's about the hair, or that he's strongly built (unusual for a computer geek) and so on. Others, of course, have just assumed he's "a guy" and nothing else.
When I was working with Lukas Ketner to do the artwork that became the inner spread, I gave him a ton of suggestions, requests, and reference photos. Some he used and some he didn't, and over a short period of time we had a very nice artwork indeed. One of the reference photos was "the guy":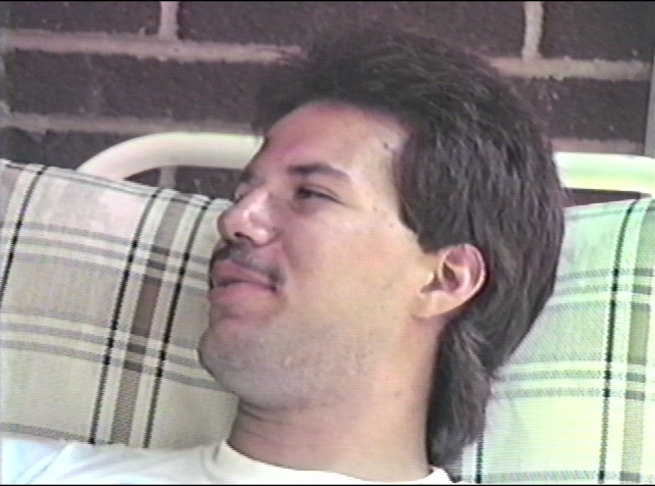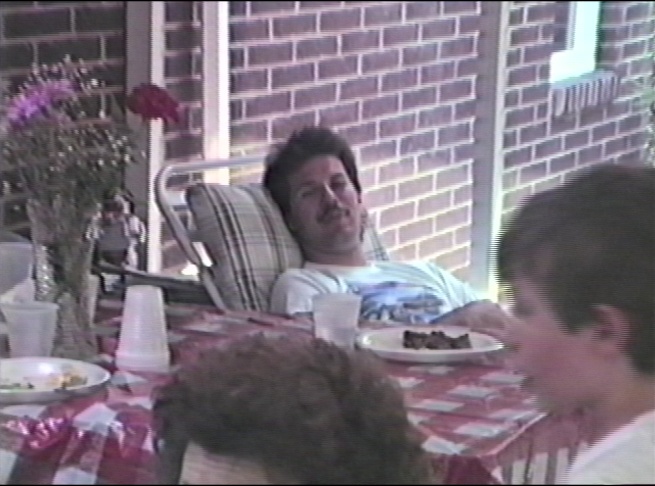 This is in fact Marc Pacilli, my cousin.
It is rather a painful thing for my family, even over twenty years later – Marc was killed from a fall while on a scouting trip, in 1988.  He was, especially with the passage of time, very young – still in his teens.
Marc was the one who really introduced me to adventure games. I found an adventure game on the mainframe terminals at work when I visited my father at IBM's research center, but the IBM PC in my aunt and uncle's home had Microsoft Adventure, and it was there we got to experience this game properly – not in a solitary fashion in some cold research facility, but surrounding the computer in the den, trying to figure out what Woods and Crowther had planned, sketching out maps, going crazy trying to know where we were in mazes.
Marc solved a lot of it, including the endgame. Marc was, and this is not some warm nostalgic hindsight, goddamn smart. Marc could have been anything he wanted to – an athlete, a computer guy, a musician.  He was good at stuff, and was one of the most balanced people I've ever known. Had he been running some company in later years, I'm sure he would have been able to go out and kick everyone's ass in the company's basketball court or during a pickup game of football in the park, and then go back and nail what was slowing up the code builds. He was just that kind of guy. It's why the artwork shows a muscular guy working at a computer – that was Marc.
So when working on the artwork design, I knew that there would be a guy working at a computer – and that guy could be anybody. So why not Marc?
I'm sorry that when you search for his name, you don't get any hits – if he'd been around in the 90s, you can be sure we'd both have been in contact talking about httpd and getting it working and designing web pages and the whole deal. You'd have had hundreds of hits for his name, I just know this. But this weblog entry will be one of the only ones, and that sucks. The whole thing sucks, actually – but it wasn't incompetence or evil or disease or any of a hundred things that took him from our family and the world.  It was just plain stupid chance, a freak accident, an unwanted set of circumstances. I remember the hole it left, a terrible blankness, that never got filled, by any of us who knew him.
In a few weeks, hundreds of people will have Marc's image in their homes and work – it will eventually be thousands, all over the world. An image of Marc sorting out a problem, or maybe discovering a link, with a whole range of possibilities and ideas and dreams around him.
It's maybe not much at all, but it will have to do.
And that's the story of the guy.
---