Posted:
August 13th, 2010 |
Author:
Jason Scott
|
Filed under:
production
|
10 Comments »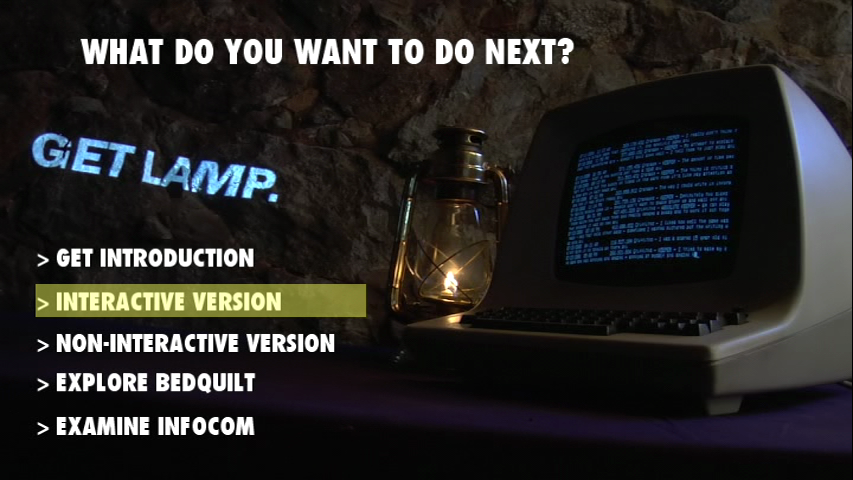 Because GET LAMP has actual interactivity in the movie, it relies on a number of DVD specifications that, it turns not, are implemented strangely on various software and hardware players. They all work, to be sure, but some seem to not want to highlight menu items.  The easy solution is just to run the non-interactive version, but I wanted folks to at least have the chance to enjoy what they paid for properly. Therefore, there is now a GET LAMP Technical Support page that walks you through what's going on. If any similar issues arise, that's the page they'll end up in.
The fact that highlighting within chapter-located links is implemented spottily among DVD software/hardware players showed up right towards the end of things, and I went with forging ahead with the solution instead of some other possibilities that would make things even worse. (Imagine the fun I had checking out those.) DVDs are basically huge trees of interlinked assets with properties on these links, and players all have different attitudes about it. Most surprising is VLC, which you would think would play most everything right (and which is the player I suggest for everything). It doesn't highlight! But I suspect that this feature I used is in such a tiny percentage of DVDs made that nobody cares. Maybe somebody will care now! That'd be great!

When I was working on this documentary, I wanted it to have certain aspects of the very games they were talking about. One of these aspects was the interactivity, but another was that sense of seeing something differently, of engaging with the work in a way that was completely at odds with how you would normally interact with it.  This led to the fact that there's a lamp in nearly every shot.  I've had a number of letters about people trying to find them all, so I figured it was time to be clear which didn't have a lamp shot (usually because I only used closeup shots of the person). Therefore, the new Lamp Game page lays it all out for you. Happy hunting.
---